The best way to create a docs/knowledge base website from Notion is definitely
Notaku
.
The end result
Notaku will create a full featured docs site from your Notion pages without having to write any code.
It supports basically all Notion blocks and it's easy to setup, you can give it a try in a couple of minutes.
Notaku will generate a website with the following features:
Sidebar on the left showing all your pages
Search bar to quickly navigate the site
User reactions to collect feedback on pages
Custom footer, header logo and links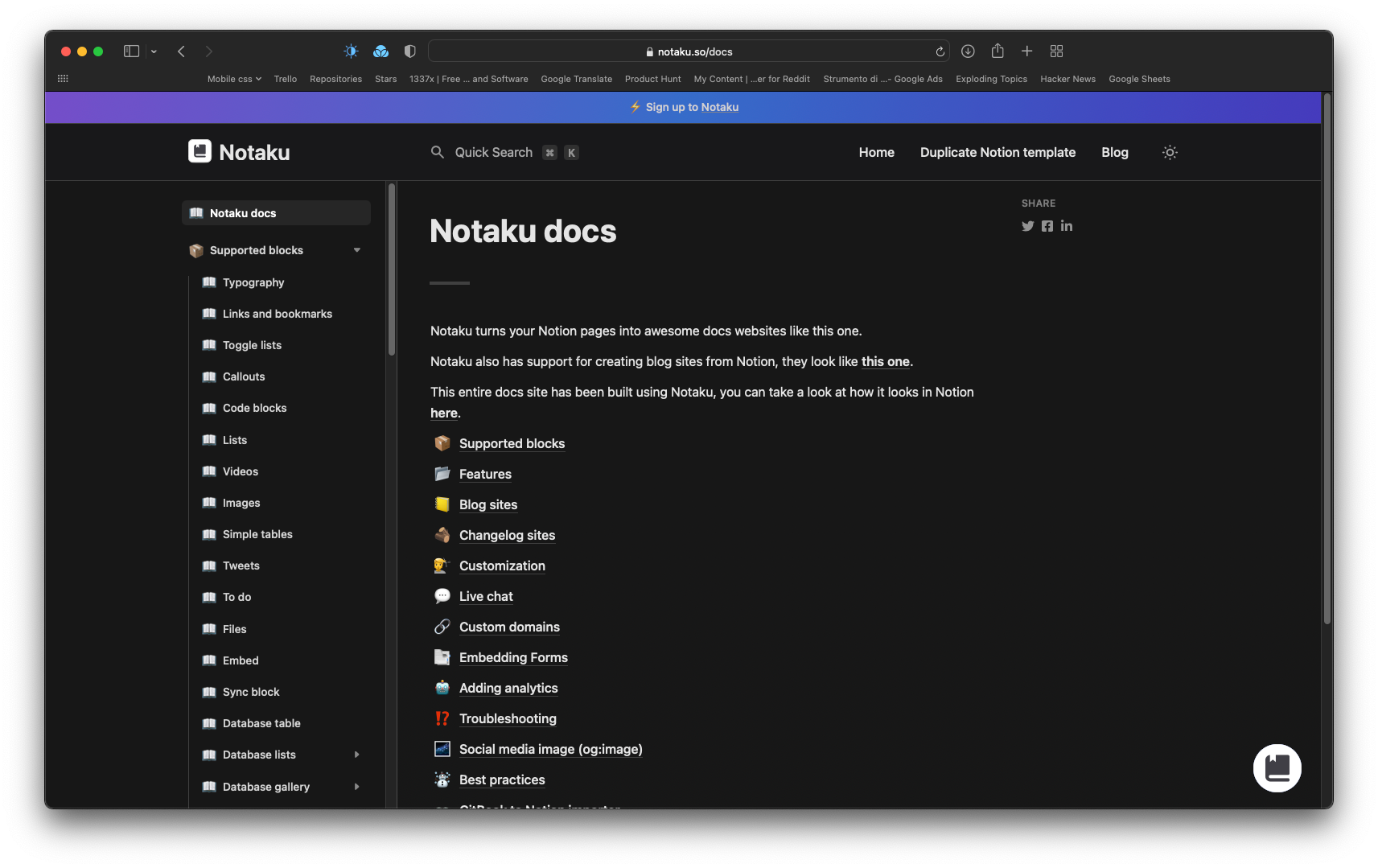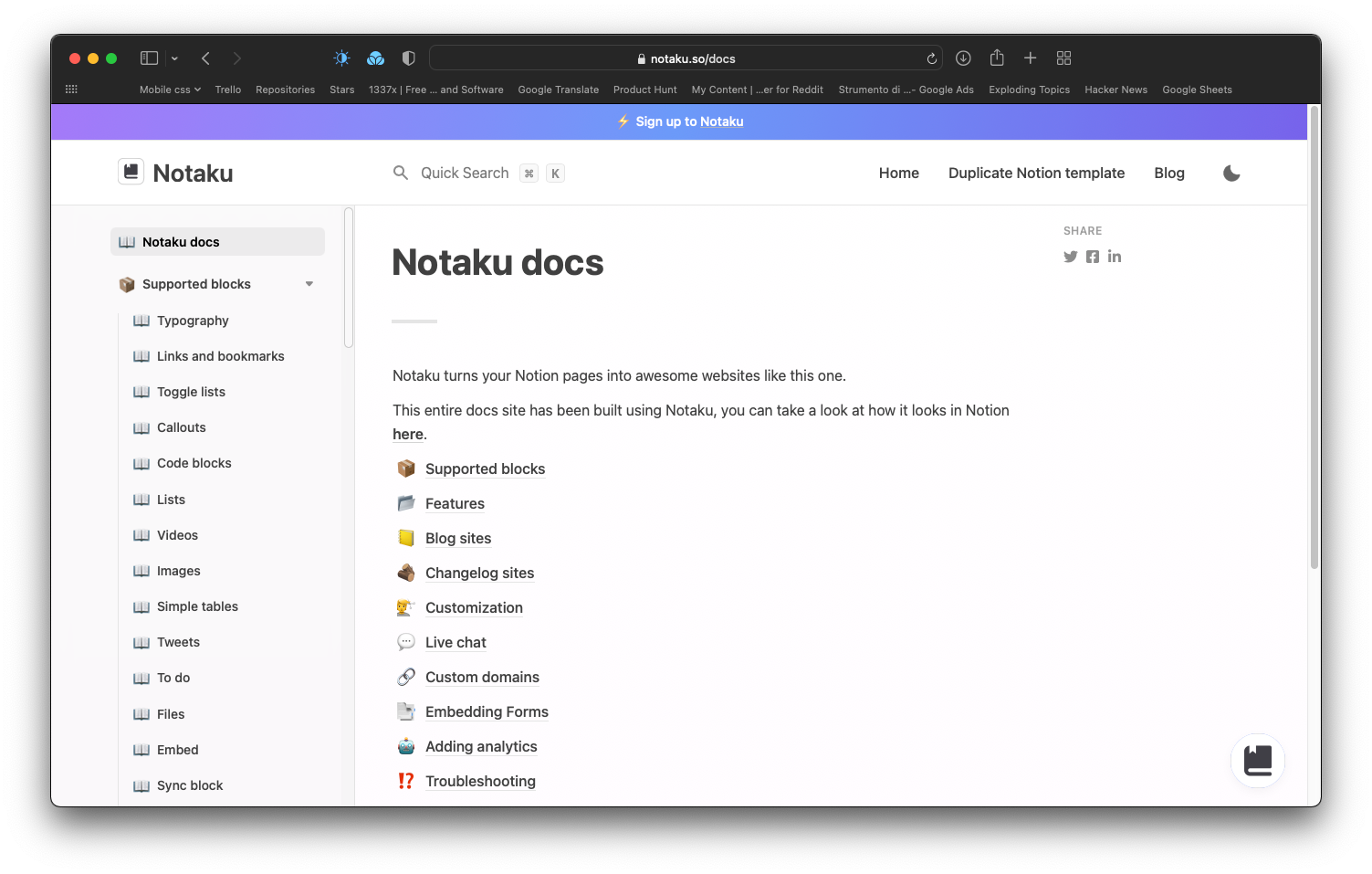 How to create the docs website
1. Duplicate the Docs Notion template
2. Make your Notion page public
Notaku will need your root Notion page to be public to fetch the content
If you still don't have a Notion page, Notaku will give you a Notion template you can duplicate as a starting point.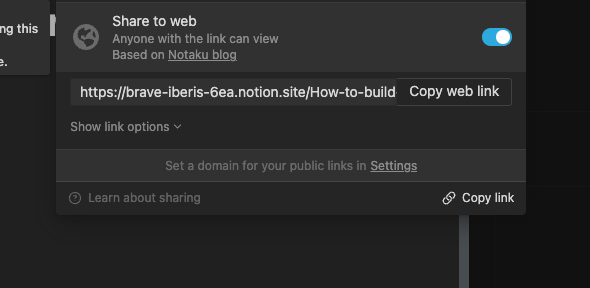 3. Signup to Notaku
Notaku is the tool that will generate the website from your Notion page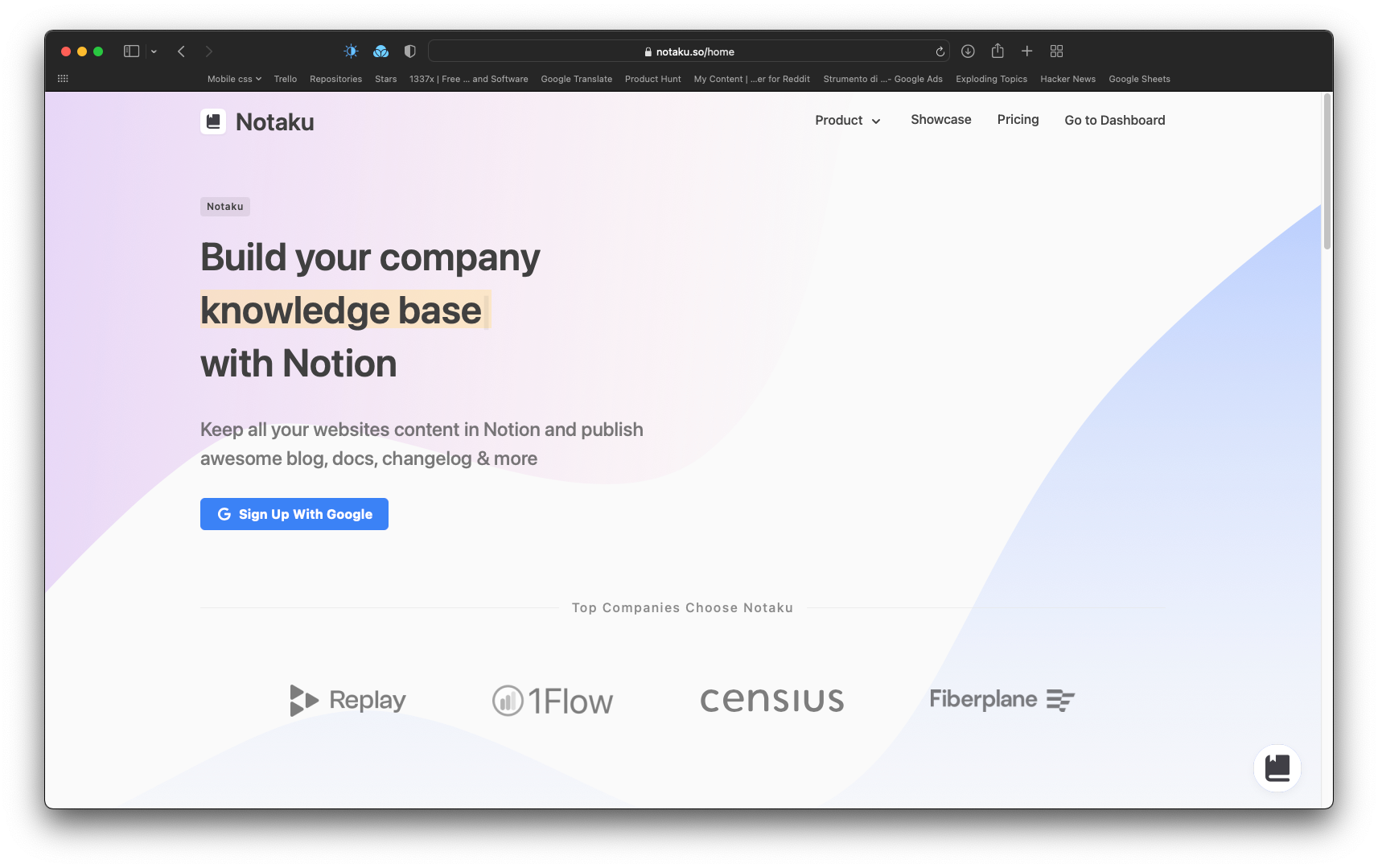 4. Add the Notion url to Notaku dashboard
If you don't already have a Notion page you can duplicate the Notaku template shown in the modal.
Notaku will only ask you for the Notion page url and and a name, it will then copy the Notion data and generate the website on a
notion.site
subdomain.
Later you will be able to add your own custom domain.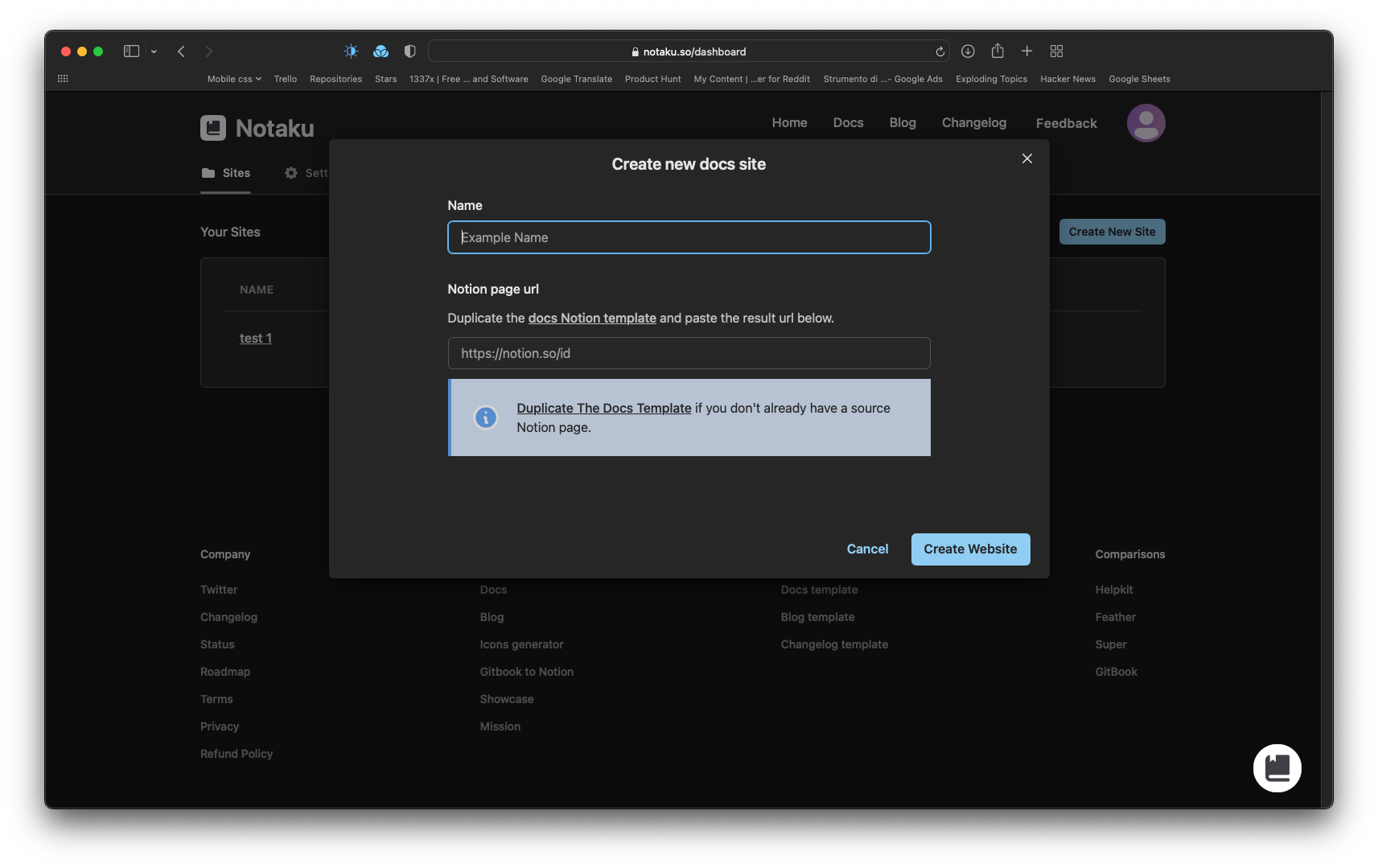 5. Add custom domain, logo, links, footer, .etc
Notaku will let you style the website with your branding and let you add header links and footer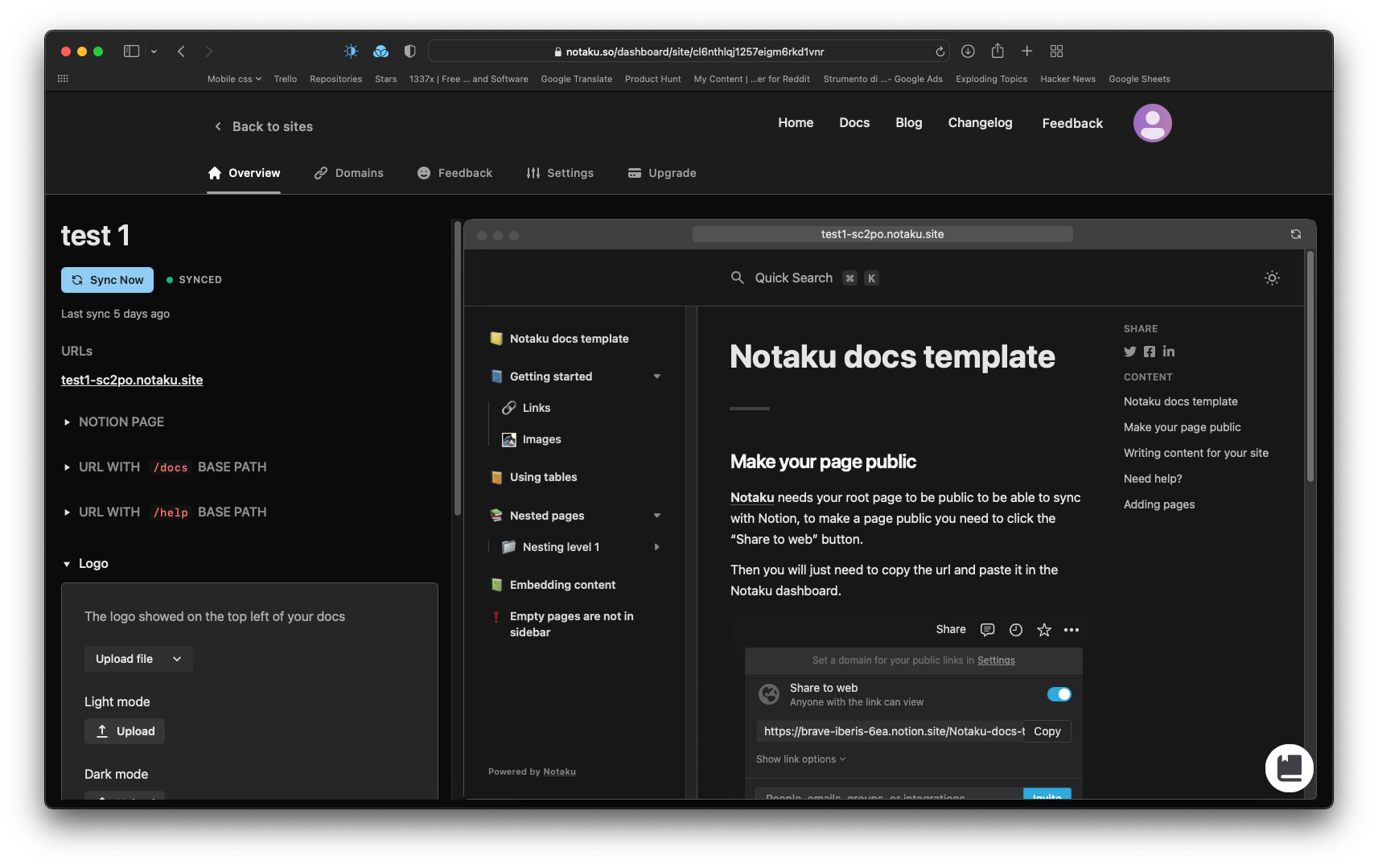 How can I update the website with new Notion content?
Notaku will sync your Notaku website every hour or whenever you click the "Sync Now" button.
Notaku is decoupled from Notion, it will copy the data from Notion and store it in Notaku database. Notaku works with any Notion account and the free plan too.
Why should i build a website from Notion?
First of all Notaku uses Notion as CMS, if you want to build a docs website you will need some sort of CMS anyway, something like markdown, Wordpress, Drupal, …
When i built Notaku i thought that Notion was definitely better than any other CMS, these are the reasons why you should use Notion as your website content management tool:
Your team already uses Notion and it's easy to add new pages and update content
Notion has one of the best editing experience
No need for another seat based subscription that will becomes super expensive when your company grows
Related guides